Top Reasons to Live at ONE Water Street Kelowna
Posted by Chris Sereda on Monday, January 16, 2023 at 11:39:55 AM
By Chris Sereda / January 16, 2023
Comment
Discover the Top 10 Reasons to Call ONE Water Street Home!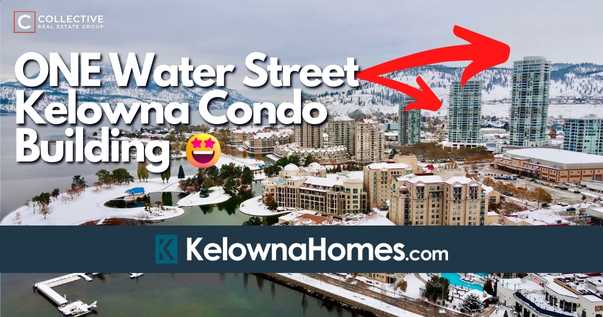 Living at the ONE Water Street building in Kelowna British Columbia Canada offers a number of advantages that make it a highly attractive place to call home. This condominium project truly has reshaped the idea of downtown urban living. Below we have compiled the top 10 reasons why living at One Water Street might be the right choice for you!
1. Location: ONE Water is located in the heart of downtown Kelowna, putting you just steps away from all of the city's vibrant action. Whether you want to shop at the local boutique stores, dine at the top restaurants, hit the beach, or attend a cultural event. Living at One Water puts all of these incredible assets right outside your front door.
2. Amenities: One Water offers a range of luxurious in-house amenities that are sure to make your daily life comfortable and enjoyable. The building features a state of the art fitness center, pools, hot tubs, large rooftop patio, bbq pit enclaves, dog run, and garden terrace, providing ample opportunities to relax and unwind after a long day.
3. Security: One Water takes security seriously, and as a resident you can feel confident knowing that the building is well-protected. This building has 24/7 security personnel and surveillance, ensuring that you and your belongings are safe at all times.
4. Pet-friendly: One Water is a pet-friendly building, so you don't have to leave your furry friends behind when you move in. The building is fully equipped with an incredible rooftop dog run, as well as a dog wash area, making it easy to keep your dog happy and healthy!
5. Views: One Water boasts breathtaking views of the surrounding mountains, city, and Okanagan Lake providing a stunning backdrop for your daily life. Imagine waking up every morning to the sight of the sun rising over the mountains or enjoying a glass of wine on your patio as the sun sets over the lake. A huge advantage of living at One Water is that every single window in the building has a panoramic view waiting!
6. Green living: ONE Water is committed to sustainability and eco-friendliness, and the building is designed with this in mind. This building features energy-efficient appliances and lighting, as well as water-saving features, helping to reduce your impact on the environment.
7. Walkability: Kelowna is a highly walkable city, and One Water's downtown location puts you right in the midst of it all. Whether you want to walk to work, run errands, grab a coffee, or just enjoy the sights and sounds of the city, you can do it all on foot when you live at One Water.
8. Public transportation: One Water is also located near major public transportation hubs, making it easy to get around the city by bus or other means. This is particularly convenient if you don't have a car or prefer to rely on public transportation to get around town.
9. Proximity to outdoor recreation: Kelowna is well known for its unique landscape, and all of the outdoor recreational opportunities that it offers.One Water's location makes it easy to take advantage of them. The building is just a short drive from numerous beaches, parks and hiking trails including Knox Mountain. Kelowna's largest natural park which spans 385 hectares in the downtown core. Knox Mountain alone provides residents of the city plenty of opportunities to enjoy the great outdoors.
10.Investment opportunity: ONE Water is more than just an incredible place to live – it's also a smart investment opportunity for your future. This highrise community is master planned, well-constructed and located in arguably the most desirable area of the city, making it a safe investment for the long-term.
One Water has quickly become one of most premium addresses in the city. As a resident of One Water you'll have access to all of the incredible resort style amenities the building has, as well as the conveniences that this thriving city around you offers. Whether you're looking to buy your first condo or upgrade to a larger space, One Water has something for everyone. And with a prime downtown location and stunning views of the surrounding mountains and Okanagan Lake, you'll fall in love with this place from the moment you arrive.
Click here If you would like to see a current updated list of all the condos currently for sale at ONE Water Street!