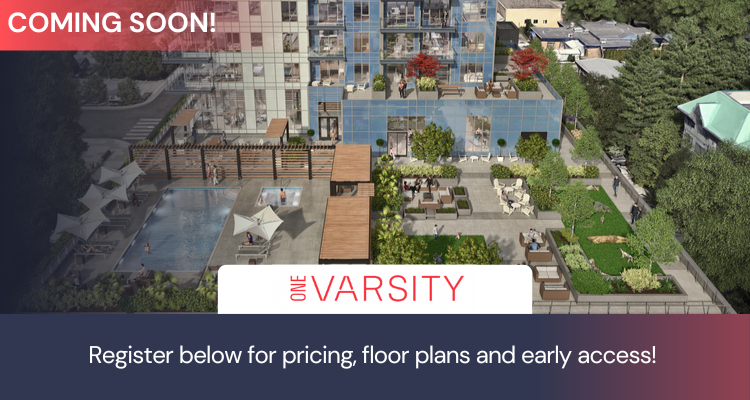 ONE Varsity in Downtown Kelowna by Kerkhoff
FLOOR PLANS PRICING MORE INFORMATION
ONE Varsity Overview
ONE Varsity is an up and coming collection of 341 intelligent condominiums in the heart of Canada's fastest growing city. These homes are perched over a concrete podium that contains 6,900 square footage of soon to be locally owned boutique stores, state of the art resort style amenities and five levels of secure indoor parking. ONE Varsity is redefining what it means to live an Urban Lifestyle. This 36 storey downtown development has been designed to contain intelligently designed homes, elevated amenities to maximize your Okanagan Lifestyle, and many flexible common spaces to allow you access to work where you play.
ONE Varsity Developer
This mixed use project is being brought to our downtown core by Kerkhoff Construction. A highly respected company worldwide that was started in British Columbia with their first build being in Chilliwack- and still to this day they remain a family orientated development company with strong dedication to create communities with excellence, innovation, and integrity.
Kerkhoff Construction are the masterminds behind many well known projects in the Okanagan such as ONE Water, Zara at Lakestone,Casorso, and The Packing District.
ONE Varsity Kelowna Location
Infrastructure aside- One Varsity's location is unparalleled. Located at 1405 St Paul Street, you are in the midst of all the excitement that downtown has to offer. From your new elevated condo you will be able to walk to all daily amenities and luxuries. Incredible recreation options at your doorstep such as the YMCA across the street, Lake Okanagan down a block or Knox Mountain Park a short 10 minute walk away. The streets of your neighborhood are lined with local boutique shopping, a grocery store, cafes, offices and everything in between. This location puts you in the center of the city's cultural and dining districts. Downtown Kelowna is bursting with variety to feed your culinary cravings! Whether that is a brewery, bar, or a coffee shop,an intricate farm to table dining experience, or some solid takeout to enjoy from the comfort of your couch. Downtown has it all.
ONE Varsity Neighbours
One Varsity will be built directly across the street from the new projected UBCO Downtown Campus. Kelowna is the fastest growing metropolitan area in Canada that has strong dedication in developing and shaping the future of the city. UBCOs future downtown presence is set to be completed in 2025 and is going to be an incredible asset for every resident of Kelowna. This state of the art University campus will occupy 100,000 square feet. This facility will encompass a grand atrium on ground level and 8 stories of academic spaces, cutting edge simulated hospital ward to train nurses, public art gallery, and public engagement suite. The eight story educational base will be accompanied by 36 storeys of rentable spaces for students and faculty. UBCO is one of Kelowna's greatest economic drivers and having a second campus in the heart of the city will in return provide tons of new employment opportunities to residents!
ONE Varsity Floor Plans
ONE Varsity will boast multiple floor plans to best suit a variety of different lifestyles and budgets. From micro suites and studios to family orientated 1 & 2 bedroom flats, there will be an attainable home for you! ONE Varsity units will be as follows:
56 x micro suites
56 x studios
55 x 1-bedroom
56 x 1-bedroom + den
118 x 2-bedroom
ONE Varsity Pricing
Register today to be the first to receive floor plans and pricing.
ONE Varsity Amenities
Who doesn't want to live in a building that feels like a year round resort? One Varsity is packed with in house resident amenities that span the entire sixth floor of the complex. These luxuries include a swimming pool and hottub on the oversized landscaped podium, a dog run, bbq enclaves, and outdoor lounge areas. Indoor amenities include coworking spaces, a gym and yoga studio, sports stimulator, gaming rooms, a dog wash,a party room with a full kitchen and a ground level bike lounge with spaces to clean, store and repair your bike!
Presale opportunities for this community are coming soon. Fill out the form below to be updated and join the VIP list.
Join the ONE Varsity Presale VIP List! Be first to hear about updates and Gain Access to VIP Openings & Special Promotions!