ONE Water Street Condos | Kelowna BC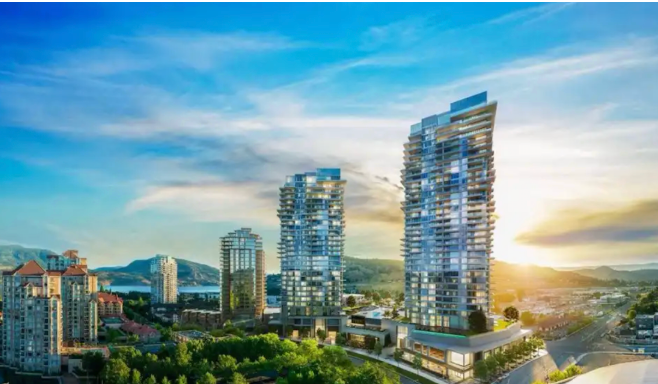 Only a short walk from the beach in Kelowna's downtown, ONE Water Street is a stunning new high-rise condo development on Sunset Drive. Tower one was completed in 2021 and the second tower in 2022. This new glass high-rises are home to 221 units with sizes ranging from 434 square foot studios to 2,540 square foot townhomes and penthouse units.
One Water Street Real Estate Listings
One Water Street Condo Market
September 27, 2023
$1,114,000
Med. List Price
About ONE Water Street Condos
---
This new development provides stunning views of the lake and valley through floor-to-ceiling windows and exterior decks with a natural gas outlet for barbequing with friends above the city below. Residents can view the lake and mountains to the west, Knox Mountain and the baseball diamonds to the north, the wide city and mountainous valley to the east, and the downtown core and bridge to the south.
ONE Water Building Details
---
Address: East Tower - 1191 Sunset Drive, Kelowna, BC | West Tower - 1181 Sunset Drive, Kelowna, BC
Year Built: East Tower - 2021 | West Tower - 2022
Stories: East tower 36 stories | West tower 29 stories
Construction Type: Concrete
Total Units in the Building: 427
Rentals: Yes, with restrictions (30 days minimum)
Pets: Yes, with restrictions (

2 pets/1 dog & 1 cat or 2 dogs or 2 cats)

Neighbourhood - Kelowna North | Downtown Kelowna
ONE Water Street Condo Finishings
---
Interiors designed by Inside Design Studio provide three different colour schemes of a light Blossom, a medium Orchard, and a Harvest combination of both dark and light materials. Hardwood flooring covers throughout the main area and bedrooms with 9' ceilings overtop above pot lights and contemporary interior doors. Kitchens provide flat panel cabinetry with full-height upper cabinets and wine storage to hold bottles of Kelowna's world-renowned wines. Stainless steel sinks and quartz countertops create a modern look that corresponds with the KitchenAid appliance package with refrigerator, dishwasher, microwave, and hood fan. Bathrooms come with a tiled tub/shower with chrome faucets and shower heads above the cabinetry and counters that match those in the kitchen.
ONE Water Street Location
---
The luxury homes at ONE Water Street are located at 1181 & 1191 Sunset Drive, just steps from Okanagan Lake and in the heart of downtown Kelowna
ONE Water Street Amenities
---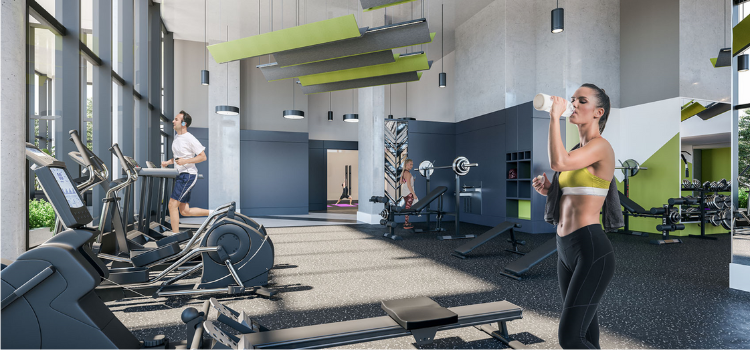 ONE Water Street is truely a one of a kind community offering unparalleled indoor and outdoor amenities that are sure to keep residents active and conected year round. On the forth floor amenities bench, residents will have access to a 1.4 acre podium home to two swimming pools an expensive hot tub, lounging and fire table stations, grilling stations with harvest tables, pickle ball courts and complete with a playground for your pet. ONE Water Street also provides a fully equipped gym and yoga studio and indoor entertainment space where the community can gather and connect. ONE Water Street amenities include:
2 Swimming Pools
Oversized Hot Tub
Several Fire Pit Enclaves
Grilling Stations and Picnic Tables
Pickleball Court
Outdoor Dog Playground
Heathclub Featuring a Fully Equipped Gym
Yoga / Pilates / Stretch Studio
Entertainment Room
Business Centre
Guest Suites
Electric Vehicle Charging Stations
Bicycle Storage
The Shoppes at ONE Water
---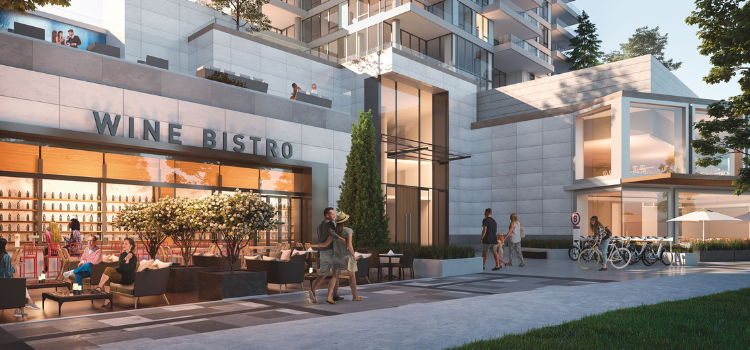 One of the many perks that come with calling ONE Water Street home is the convenience of the currated shops and restaurants that occupy the street level commercial bays. The lower lever commercial bays are referred to as The Shoppes at ONE Water. Here is a list of some of the current local business that have also chosen to call The Shoppes at ONE Water their home.
Analog Coffee - This Calgary based coffee shop/roaster was founded in 2011. They were founded with the view that every cip of coffee poured should be something special, and that 'good enough', is never good enough. After gaining popularity and business success in Calgary they have recently opened their first BC location in Kelowna! You can find them at 1177 Sunset Drive beside the entrance to the West Tower.
Erica-Jane Restaurant - OPENING SOON! - Erica Jane is the vision of Reg Henry, which has always been to offer an elevated dinning experience unlike any other in the Okanagan. Offering seasonally inspired menus, exceptional service and the highest quality wines cocktails available from the Okanagan Valley and beyond. Located at 2-1187 Sunset Drive.
Tiffin - India's Fresh Kitchen - Tiffin is a concept inspired by freshness and founded on family. Preparing and sharing traditional Indian meals for all to enjoy! Located at 1187 Sunset Drive in the bottom of the East Tower.
ONE Water Street Neighbourhood Highlights
---
Living in Kelowna's ONE Water Street development puts the beach and daily entertainment just out the front door. Situated a block away from Okanagan Lake, Kelowna's downtown provides ONE Water residents an urban lifestyle with immediate access to beach activities, recreational fun, and easy shopping that make downtown the most desirable location in the city. Surrounded by beaches, parks, and Knox Mountain for hiking trails, downtown comes alive in the summer with beaches, sports fields, and balcony bars as always an active place to join with friends and meet new ones. Rain or shine, residents can still enjoy an active day and nightlife taking place in many restaurants, pubs, or theatrical activities at the Community Theatre or the arena. Those that enjoy staying active and embracing the best leisure activities that Kelowna offers will love the lifestlye of living at ONE Water Street.
Living in downtown Kelowna allows easy access to some of Kelowna's best beaches, events, and recreational activities. The boardwalk along the lake spans from Sunset Drive south passed the bridge to provide easy and scenic travel to the downtown core and surrounding sites. During the summer, downtown Kelowna provides some of the best beaches only a short walk from your front door. Tugboat Beach across from the Sunset Waterfront Resort provides plenty of room to relax and enjoy the water and Okanagan sun. Passed the large boat marina, residents can also enjoy small public concerts on the Island Stage and in Kerry Park, or get a living room window view of the Canada Day fireworks. Kelowna's large City Park along the boardwalk provides not only fantastic beach activities, but also volleyball and basketball courts, open grass fields for sports, the Water and Skate Park, the Lawn Bowling Club, and tennis courts to stay active in competitive fun. Beyond the beach, active hikers will enjoy the many trails on Knox Mountain only a short walk or bike ride north off Broadway Avenue. After a fun afternoon only blocks away from the boardwalk, residents can enjoy plenty of restaurants, pubs, and coffee shops for social activities before returning home with the opportunity to do it all again.
Once winter hits, residents can still enjoy the great activities that downtown Kelowna provides all year round. Bernard Avenue is the place to be for social gatherings to meet new friends at the local pubs, coffee shops, and many restaurants all along the avenue. Other activities include events at the Kelowna Community Theatre and the Rotary Centre for the Arts, a day at the Kelowna Art Gallery, or an evening at Prospera Place arena for concerts, hockey games, and other events taking place year round. Friends and family can also enjoy free ice skating at Stuart Park for laughs and fun.
One Water Street School District
---
Those with kids living in Kelowna's ONE development will go to Bankhead Elementary on Wilson Avenue just a short bike ride east on Clement Avenue on the Rails with Trails lane that leads directly to the school. Bankhead prides itself on meeting the needs of its students and creating a sense of belonging for those with diverse backgrounds.
Older kids in Kelowna's downtown will join Glenmore students at Dr. Knox Middle on Drysdale Boulevard. Named after the horse-riding medical doctor William Knox, Dr. Knox Middle provides grade 7 students with French Immersion education and creating a positive school spirit of belonging and connectedness.
High school students will attend Kelowna Secondary in South Kelowna. This 10-12 French Immersion school for nearly 2,000 students will give teens some of the best education in the city as the 71st ranked secondary school in the province by the Fraser Institute. The respectful and safe environment allows a vast array of clubs and sports for students finishing their education.