Kelowna Open Houses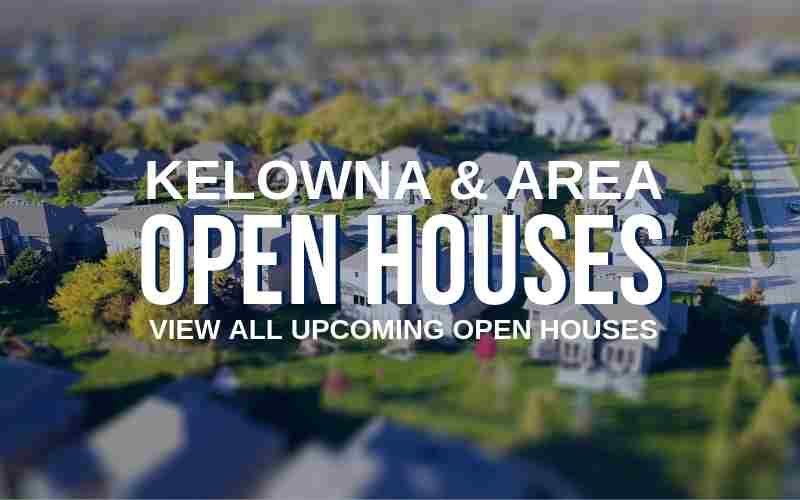 View all upcoming Open Houses in Kelowna this weekend! Looking online for potential homes to purchase in Kelowna can be a great experience, especially if you enjoy seeing different types of properties in all price ranges. House shopping online is such an exciting experience especially when you have as much variety as Kelowna does! Next step is to wander through the property in person. Open houses are an incredible resource for potential buyers to really check out their options, and see first hand if they can picture themselves and their families living in the home for years to come.
Kelowna has tons of open houses weekly that vary from condos and townhouses, detached and single family homes to large estate properties. No matter where you are at in your buying journey- you can visit as many open houses as you like to check out different neighborhoods, property types, and proximity to local amenities.
Below is a continuously updated list of upcoming open houses in Kelowna. Read more about going to an Open House in Kelowna
Upcoming Kelowna Open Houses
December 9, 2023
Why should I visit an open house in Kelowna?
---
Kelowna is home to a massive array of property types, as well as over twenty different neighborhoods that are each unique in their own way. Spending a day checking out different open houses allows you to familiarize yourself with different areas of town, and properties that each of them encompass.
Many people don't know exactly what they are looking for until they are standing in front of it! Open houses are a great asset for those that are going into the homebuying process with an open mind of what exactly they are searching for.
Convenience! Majority of open houses are on weekends and they do not require booking a showing or an appointment. Most agents representing the seller in an open house try to accommodate all types of schedules. Thus giving you open access to check things out when it works best for you during showing hours!
How do Kelowna open houses work?
---
Open houses are simply- houses that are open for people to walk through. You do not have to be actively working with a real estate agent to check out any open houses! All you have to do is arrive at the home on the date and time that's listed and you'll be able to go right inside. Here is a list of how visiting an open house will typically go.
Browse through the list of above open houses in the Kelowna MLS that peak an interest for you or your family.
Pick a time that works best for you in the allotted time slot to go wander through the property.
An agent that is representing the seller of the property will be in the home to show you around and answer any questions that you may have about the property or the area.
Some home owners will require all people walking through the open house to sign in with your email or phone number.
Once you feel satisfied with your tour, you can contact your real estate agent and put together an offer, or if it's not the one you can continue to search for the perfect fit for you!
What questions should I ask at an open house?
---
How long has this home been for sale?
Have you received any offers / lots of interest?
Has the home had any upgrades over the years?
What is the age of the appliances, roof, furnace, air conditioning etc.
If a strata, what are the fees and what do they include? Ex. snow removal, landscaping, pool maintenance etc.
What utilities does the home have and how much are they?
What is included in the purchase ex. furniture or all appliances.
Purchasing an open house in Kelowna
---
Kelowna is a great market for open houses because they make viewing properties easy on the seller and potential buyers. When visiting an open house you can spend as much time as you want, as there are no appointment schedules. This will give you a great opporunity to get a feel for the home and to view it at your own pace. Once you know you like the home in person, the next step would be to start thinking about what type of offer you would like to make the sellers.
When it does come time to make an offer for an open house, it's important for you to know that you will need to contact your agent as it is important that you have someone who is only working for you and looking out for your best interests. Your real estate agent will be able to provide guidance through the entire process, starting with advice on what to do with an offer. Your agents experience with buying and knowledge of real estate can make all the difference with getting that open house under contract before someone esle.